Description
Children of the Circus – PRE-ORDER THE LIMITED EDITION 2 X CD SET NOW!
Based on Doctor Who's The Greatest Show in the Galaxy by Stephen Wyatt, Children of the Circus is a brand-new, original, musical play on audio from AUK Studios; written by Kenton Hall (with songs by Christopher Guard) and based on an idea by Barnaby Eaton-Jones.
Starring Christopher Guard as Bellboy, Dee Sadler as Flowerchild and Ella, Sophie Aldred as Captain Gren and AJ, Toyah Willcox as The Band of Infinite Harmony, Ian Reddington as Delios and the Chief Clown, and Sylvester McCoy as the High Poet.
With Daisy Dunlop, Verity White, Kim Jones, Kenton Hall, Barnaby Eaton-Jones and Ian Kubiak.
Special guest appearances by Ricco Ross as The Ringmaster, Jessica Martin as Mags, Chris Jury as Deadbeat, Deborah Manship as Morgana, Gian Sammarco as Whizz Kid, Daniel Peacock as Nord, and Dean Hollingsworth as the Bus Conductor and Station Announcer.
The release date is December 14th 2023, exactly 35 years to the day that the first episode of The Greatest Show in the Galaxy was broadcast on BBC 1!
Once upon a time, there was a circus.
 A Psychic Circus, to be precise. A glorious haven for the misfits of the universe.
 But then, as is so often the way, it was hijacked by a trio of malevolent Gods.
 Things grew unpleasant. 
 Now, years later, the Gods are gone, but the scars of those who survived the Circus remain. After all, you can't change the past. 
 Unless you're the Children of the Circus… and you're willing to sing.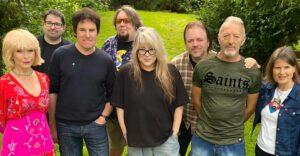 (from left to right, Toyah Willcox, Ian Kubiak, Christopher Guard, Barnaby Eaton-Jones, Dee Sadler, Kenton Hall, Ian Reddington, and Sophie Aldred)
Sylvester himself sums it up rather beautifully…
'To return to the worlds of Stephen Wyatt's imagination, but as a wholly new character called the High Poet, means I get to be involved with the Psychic Circus rather than fighting against it! As a lover of the circus myself, juggling this new role was a joy (though I'm sad I didn't get to play the spoons).
What fun to be reunited with all the wonderful cast from 'The Greatest Show in the Galaxy' again, 35 years later, and I hope you'll all enjoy this time-sliding, sidestepping sequel from Barnaby Eaton-Jones and his bunch of clowns!"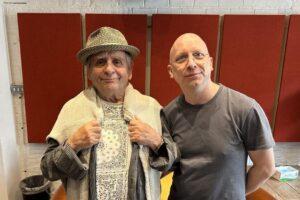 (Sylvester McCoy, with AUK Studios CEO, Paul Andrews)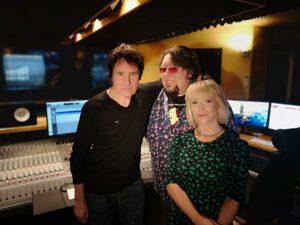 (Christopher Guard, Barnaby Eaton-Jones, and Toyah Willcox – at Yellow Shark Studios)
—
CHILDREN OF THE CIRCUS
(Based on 'The Greatest Show in the Galaxy' by Stephen Wyatt)

CAST
Bellboy – CHRISTOPHER GUARD
Ella / Flowerchild – DEE SADLER
Delios / Chief Clown – IAN REDDINGTON
Captain Gren / AJ – SOPHIE ALDRED
Mel'Dee / The Band (Lead Voice) – TOYAH WILLCOX
The High Poet – SYLVESTER MCCOY
Gregoria – KIM JONES
The Tooth – BARNABY EATON-JONES
Barkeep – IAN KUBIAK
The Ringmaster – RICCO ROSS
Deadbeat – CHRIS JURY
Mags – JESSICA MARTIN
Morgana – DEBORAH MANSHIP
Whizz Kid – GIAN SAMMARCO
Nord – DANIEL PEACOCK
Bus Conductor / Announcer – DEAN HOLLINGSWORTH
Rag – BARNABY EATON-JONES
Na – KENTON HALL
Rok – KIM JONES
Ella (Singing Voice) – DAISY DUNLOP
Flowerchild (Singing Voice) – VERITY WHITE
SONGS
Resident – BELLBOY
Fishing For Stars – BELLBOY / ELLA
How You Feel – BELLBOY / ELLA / DELIOS
Doing Something Right – DELIOS
Welcome To Me – BELLBOY / FLOWERCHILD
Blind Side – DELIOS
Fear – BELLBOY / ELLA / DELIOS / THE BAND
Darkest Moment Well Connected – MEL'DEE
Heaven – BELLBOY / FLOWERCHILD / DELIOS / GREN
PRODUCTION
Script – KENTON HALL
Songs / Arrangements – CHRISTOPHER GUARD
('Resident' & 'Darkest Moment Well Connected', co-written with Indians In Moscow)
Additional Lyrics – KENTON HALL
Incidental Music – ABIGAIL FOX
Sound Design / Editing – JOSEPH FOX
Cover Art – TIM KEABLE
Graphic Design – ROBERT HAMMOND
Musical Production – KENTON HALL & CHRIS IILETT
Script Editor – BARNABY EATON-JONES
Executive Producer – PAUL ANDREWS
Director / Producer – BARNABY EATON-JONES